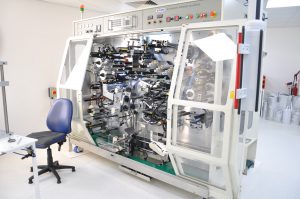 API Capacitors Ltd would like to introduce its newest piece of key equipment. The new winding machine, the Automatic Winder MXL S – Mode. The machine was designed and manufactured in Switzerland to our specific requirements. The investment in this new equipment is a demonstration of our commitment to embrace technological advances in our industry.
The new equipment will provide the company with new capabilities not only to enable new and more complex products to be produced but improvements to our existing product range. The new equipment has created a number of new jobs both at operating and technical levels at the company.
This signals a major step towards the company's longer term goals in expanding its capabilities in high voltage direct current applications, a key growth sector in the capacitor industry. The demand for power capacitors is high and is projected to increase significantly, as the demand for greater capacity transmission systems continues to increase.
The company would like to thank and acknowledge the help and support received from the Small Grants Scheme and the New Anglia Local Enterprise Partnership Scheme whose contribution and advice was key to the strategic success of the project and overall aim of expanding high voltage direct current capabilities.